RToday, you will search for a recording and begin to find the story of that recording.
WordPress check-in
By now you have refined your WordPress skills, shared your site with me, and posted twice. I noticed some solid examples in looking through all of these this morning.
Examples: [Gabrielle] & [Emma]
Email me your links: Alana
Still need to activate your blog: Kate, Chelsea, Hannah T
And as good as these are, you can all improve. As I read across your sites I noticed a few things to work on. Do these apply to you? Take a few minutes to work on your site.
Develop — and stay on top of — your posts. In order to be truly developed, blog posts should be between 300-500 words. Some of your posts are under 300 words; if this is the case, such low word counts will not bode well for your grade. Use a word count tool like this one or this Chrome extension, or better yet draft in Google Doc and use their word count tool (see Tools menu).
Organize your site. When I navigate to your site right now I should see three blog posts, and ideally with the latest one (Post 3) at the top (if you want to alter the order, you need to do this by editing the published dates of the posts). I should not see any empty or practice posts, like the one titled "The Journey Begins" or a link to a Contact page on the main menu. Finally, I should see an About Me site page on the menu (usually at the top). This should not be a blog post.
Include links and embed media. This isn't a science, but aim to add a 3-5 meaningful links per post so that users can interact and learn from your writing. When you do, embed these links (like this); do not do this: https://pitchfork.com/reviews/tracks/wanted. Which words get linked depends on the content, though you are ultimately trying to connect readers with useful, relevant content. You should embed songs and video.
Create site titles! Include them by navigating to customize > site identity
Format your text so it is aligned to the left. You do not want your main text centered. Move it over so it is all the way to the left.
The Great 78 Project
A "78" is shorthand for 78 rotations per minute (or r.p.m.) — the number of times the record would spin fully around in 60 seconds. These were made from shellac, were commonly made in sizes of 12″ or 10″, and would usually play a 3-4 minute song per side.
Record formats are still described this way. Perhaps confusingly, a 45 rpm record plays the same amount of music as a 78. This seems impossible since it's a smaller disk, but because it's spun at a slower pace (45 rpm) it's a wash. Your typical LP or long-playing record that you can buy on Amazon or Urban Outfitters is 33 1/3 rpm. Because it's spun slower, it can hold half a common album (20-25 minutes) per side. CDs, as you might know, can hold 80 minutes on 5 inches, though these are different because they are played digitally.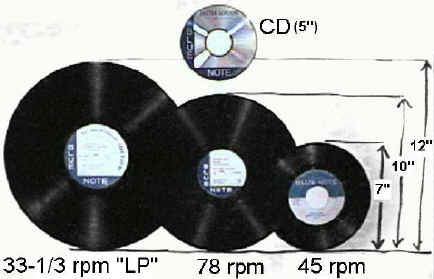 The 78 format was the first dominant format for popular music, used widely for 50 years — from the early 1900s through most of the 1950s. Here's a Billboard article from 1952 about the beginning of the transition to vinyl which would be complete by 1959.
Exploring sound archives through The Great 78 Project
Each Phono Project post is made by researching and writing about a recording from history that reflects the writer's interests, identities, or curiosities while also considering the needs of the publication.
We will dedicate some time today to exploring these possibilities by looking more closely at the digital archive you'll be drawing from, called The Great 78 Project. You'll be first looking for a phonograph recording in this archive that has already been digitized by the large community of audiophiles out there on the web. What did you learn about this from your readings for today?
Searching and browsing: some starting points
That means if you are looking for a particular artist or musician, their work will only be in here is it was released prior to the 1960s. I strongly prefer that we avoid artists or songs we've already covered on The Phono Project site. This would include:
anything by Frank Sinatra
anything by Elvis
"You Are My Sunshine"
"Over the Rainbow"
"White Christmas"
any other artist or recording we've already researched and shared
We want to find diamonds in the rough, not those artists or tracks everyone already knows about. But finding a rewarding recording to research and write about is complicated and takes a mix of strategies, both involving browsing and noticing, but also some specific searching moves that draw from the language above (production, instrumentation, etc.). You might think of this process as akin to shopping. Sometimes you know exactly what you want and you go to that thing and buy it, but other times something wild pops out at you from, say, the heavy metal section at the record store and you just have to check it out.
Are you still stuck? Here is a list of recordings that I'd love to see researched and added to The Phono Project!
But if you're looking for something that speaks more to your identity, background, or interests, there are also specific search strategies you should employ. These include:
Topics & Subject sections — not sure what you're interested in? Take some time browsing the archive(s) until some terms or topics draw you in. See my examples in the next section.

Advanced Google Search commands

— these steps allow you to be more precise in your searching. Often these commands apply to other sites, such as the archives you are searching.
Sorting functions

—

The Great 78 Project

allows you to sort search results by views (i.e. popularity), date archived, date published, and more. Experiment with these as you look for a recording.

Views— finding information on more obscure tracks will be difficult, especially in such a short module. Consider choosing a recording that is somewhat well known. How do you know what's popular? Look at the number of views.
Example searches
Let's say you really want to focus on something recorded at RCA/Victor in Camden. You might go to The Great 78 Project and search "Camden" and notice there are quite a few leads. But maybe you like country more than world music, so you choose that category. All of a sudden you have the Carter Family's "Wildwood Flower" or "Can the Circle Be Unbroken."
Or maybe you want songs about New Jersey so you search "New Jersey" and notice "I Found a Peach in Orange New Jersey" by Arthur Fields in the results. Or "Back in Hackensack New Jersey" by Art L. Beiner. Or perhaps you're more interested in a more unconventional track so you look at "Radio program for WAAM, Newark, New Jersey," a radio broadcast of an early radio station.
Alternatively, you might be looking for a particular artist or genre you know exists, but you aren't sure if there are any digitized phonograph recordings of them out there. Maybe you'd love to track down a protest song, or something by Ma Rainey, you can approach it that way.
What are some other ways you might approach these recordings? Let's give you some time in the lab today to start finding a gem.
---
Homework for Day 5
Select a potential 78 rpm recording for your contribution to The Phono Project. Listen to it multiple times. If there are lyrics, write them down to find them online. As you listen, jot down some questions.
Next, research your recording using the web, perhaps starting with different entries on Wikipedia but going where the web takes you. Find out as much about it as you can and take note what you're getting from where. If you're stuck, you might ask questions like those above. These include:
What is the genre of the recording? Is this a typical example of it?
Who is this artist? Did this person or group normally record/write this type of music?
Where were the performers in this stage of their careers (note the date of the recording)?
Were there notable circumstances or consequences surrounding this recording?
Do the lyrics tell a story about an event or historical figure?
Was this recording controversial in any way?
You might do this in Google Docs to help you organize. Then in your 4th WordPress post do the following:
embed your recording in your post; if you're having trouble with this, just link to the source. See below on how to embed.
explain how and why you chose this recording, providing a link to it
summarize your research findings using bullets and providing links to each of your sources. Any sentences or phrases that are not yours should be in quotation marks.
Embedding sound files from The Great 78
I already showed you how to add streaming audio to WordPress using a few different methods. One of those ways was by grabbing the embed codes. If you choose tracks from The Great 78 Project, do this by clicking the share button:
Copy the top embed code (the one that says "iframe."). Next, choose a new block in WordPress and make that block "shortcode." Paste that code into your post and you should get something that looks like this: